Who can join?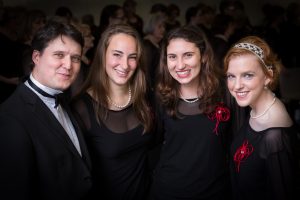 Brisbane Chorale is an auditioned adult SATB choir. We encourage auditions from skilled singers under the age of 60, or at the discretion of the Music Director.
A good standard of musicianship is expected of singers in Brisbane Chorale. However, if you have a good voice and display strong aural musicianship (a good ear) and excellent intonation, the Music Director will take a lack of confidence in sight-singing into consideration.
Enquiries are particularly encouraged from tenors and basses, as there are currently fewer places available for sopranos and altos.
If you would like to observe the Brisbane Chorale in action you are very welcome to attend a rehearsal or two before you audition. Come along and meet the Music Director, watch and hear us rehearse.
We also have membership available for people who have a passion for choral music and are interested in supporting the Brisbane Chorale but do not want to, or are not in a position to, sing with us.
Like to know more?
You can read more about the Chorale here or visit our Frequently Asked Questions. If you'd like further information before auditioning, or to arrange to visit a rehearsal, contact Virna, our Auditions Co-ordinator, by email audition@brisbanechorale.org.au  or phone 0491 158 916.
The Audition
You will not be required to bring a prepared piece of music. The audition consists of vocal exercises to determine voice type and range, aural and rhythm tests and a short piece of sight-singing.
Audition Application